For some couples, an engagement ring is a costly affair. And the weddings on the top of it can add more of a burden, so to make these simultaneous costly affairs go easy on you, you can cut down the costs on the ring and buy an affordable one to save up on other wedding expenses. Here are some affordable engagement ring options for you.
Classic diamond solitaire
The solitaire diamond is the most famous style for engagement rings. The timelessness and elegance of the ring setting signify its simplicity. With no extra details or diamonds, the major part of your budget can be used to get the best center stone for your ring. This ring showcases a half karat round brilliant diamond and its cost is below $1500. The cost is definitely lower and the stone has an L grade for color which signifies a slight off white. The warmth of the yellow golden rings for women lets the diamond seem whiter. If you are seeking a larger stone then a cathedral solitaire has a .70 karat round brilliant diamond that perfectly fits the budget. The color is warmer and the clarity is perfectly eye clean.
Pave diamond setting
If you want more jazz in the ring, you can choose pave settings. These can be a bit tight for your budget but you can also prefer a smaller center stone. This ring highlights a quarter carat center princess diamond embraced by a row of pave round diamonds. The stone also highlights the colorless grade (G) and a VS1 clarity. If you love vintage rings, you will love the ring that showcases a half carat emerald cut center stone with a chain of white diamonds studded along the rose gold band.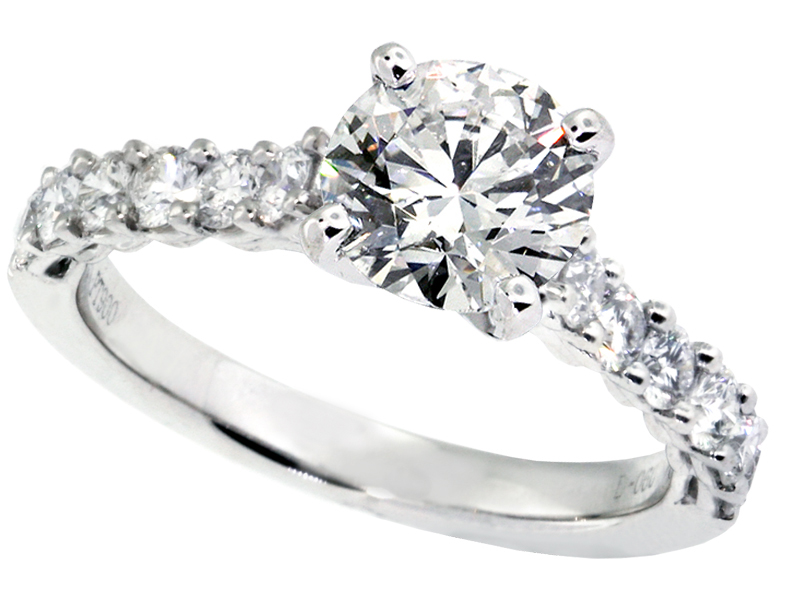 Gemstone engagement rings
An engagement ring doesn't always have to showcase a diamond stone as the focal center of the jewelry piece. Colored gems can also be chosen as alternatives to make it beautiful. It also helps in adding a personal twist. You can put a birthstone or your favorite color for making it a meaningful as well as an affordable ring.
You don't need to spend a fortune and break your budget just by buying engagement ring. You can buy a beautiful engagement with a low budget and it would still be deemed a sentimental piece for your partner. Opt for off white diamonds, gemstone centerpieces etc. to build a ring that is a perfect fit for your budget.